Thai Chicken Noodle Soup
Posted by Ivy Lee on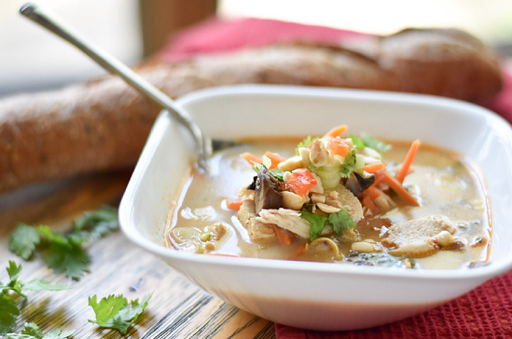 Here is beautiful leftover idea for classic deep fried chicken. It is easy to put together for a light and nutritious quick meal! This dish would hold well in a hot food cabinet for resale, and give your customers a tasty and healthy hit of Thailand….
Ingredients:
1 Tbsp olive oil
1 red chilli, deseeded and chopped
1 garlic clove, finely chopped
1 Tbsp Thai fish sauce
1 tsp tamarind paste
1 tsp soft brown sugar
1 tsp turmeric
Pinch cumin
Pinch ground ginger
4 spring onions chopped together with any other stir fry vegetables you like
150ml coconut milk
300g leftover deep fried chicken skin removed, shredded
700ml chicken stock
Salt and black pepper to taste
Fresh coriander leaves to serve
Sprinkle of sesame seeds to serve (optional)
300grm ramen noodles (cooked)
Method:
1. In a tall sided pan, heat oil, fry chill and garlic. Add fish sauce, tamarind paste, sugar, turmeric, cumin, ginger and a good pinch of salt and pepper.
2. Add spring onions and other stir fry vegetables
3. Once the vegetables are cooked, pour in the coconut milk and shredded leftover chicken. Cook until the mixture starts to bubble, then pour in the chicken stock and bring back to the boil for 4-5 minutes.
4. Follow the packet instructions to cook your noodles. Add them to your soup and cook for the required length of time.
To Serve:
Serve with a sprinkle of fresh coriander on top with toasted sesame seeds (optional). Sell immediately out of your hot food cabinet, or freeze down in the 525ml plastic food tubs.
Notes:
This dish can only be frozen and reheated once. Reheat to 65°C and sell out of your hot food cabinet.
---
Share this post