Hygiene Measures During COVID-19
Posted by Ivy Lee on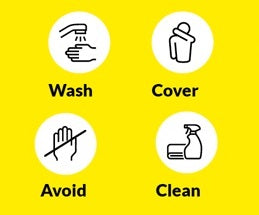 WASH -
Wash your hands frequently with soap and water for at least 20 seconds and dry them well
Use alcohol-based hand sanitiser if you aren't able to wash and dry your hands.
AVOID -
Avoid touching your eyes, nose, and mouth with unwashed hands.
Avoid close contact with others (such as touching, kissing and hugging)
Maintain more than 1 metre contact distance from the customers
Limit number of customers in store at a time to ensure physical distancing.
COVER -
Cover coughs and sneezes with clean tissues or your elbow and dispose of tissues
Wear facemasks and gloves if necessary
CLEAN AND DISINFECT -
Clean all 'high-touch' surfaces such as EFTPOS machines, touch screens, counters, tabletops, etc, every day with antiseptic wipes or disinfectant, including bleach solutions.
Clean floors with disinfectant or bleach solution, starting from one end of the premises to another (from the exit inwards) every day.
---
Share this post